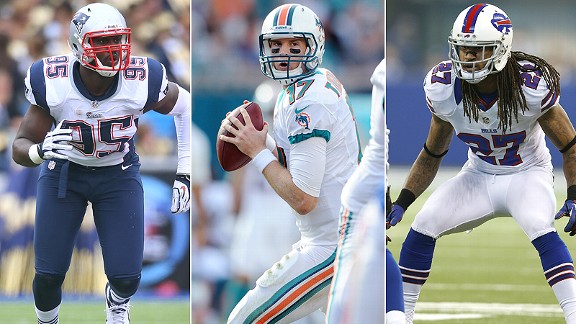 New England Patriots — via Patriots Gab
— Morgan Smith breaks down the latest developments in the Aaron Hernandez saga.
— The Patriots rank in the top 3 in the entire league in social media equity.
New York Jets — via Jets Gab 
— Rex Ryan has yet to name a starting quarterback in New York. Andy Green breaks down the latest.
— The Jets recently agreed to terms with former Packers quarterback Graham Harrell.
Buffalo Bills — via Bills Gab
— The Sports Gab Network is currently looking to hire someone to cover the Buffalo Bills at Bills Gab this season and beyond. Email matt@gridirongab.com to apply.
What you may have missed at Dolphins Gab 
— With final cuts only three days away, check out my official 53-man roster prediction.
— Will the Dolphins struggle to score touchdowns in the red zone this season? I break down some potential fixes to the issue here.
— Dolphins Gab is also looking to hire an additional one or two writers to help out with the team's coverage this season. Email matt@gridirongab.com to apply.