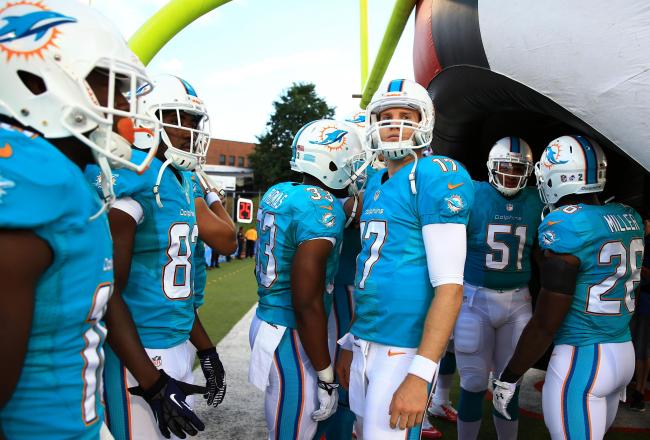 The Dolphins have only played on preseason game, but it's never too early to begin looking at how the team's 53-man roster might shape up.
So much could change by the time Miami's five exhibition games have concluded, but discussing the 53 is always one of the more interesting topics during the preseason.
Please note this post isn't meant to be a prediction. We'll save that for a few weeks from now.
Like the title suggests, it's a current snapshot of how the team might look if cuts were made today. That way we can begin to identify which players still must play their way onto the roster.
OFFENSE (25)
Quarterback (3): Ryan Tannehill, Matt Moore, Pat Devlin
With Aaron Corp now out of the picture, the Dolphins are set with the quarterbacks they have in camp. Pat Devlin hurt his hand in the fourth quarter of the Hall of Fame Game, but he was throwing at practice this week and should return to action soon.
Running Back (5): Lamar Miller, Daniel Thomas, Marcus Thigpen, Mike Gillislee, Jonas Gray
Cuts: Cameron Marshall
Ideally, the Dolphins would only keep four running backs, but I just don't see how they could part ways with Jonas Gray after his performance in Canton. The second-year back out of Notre Dame ran with power, showed the ability to catch passes out of the backfield and appears the be an adequate blocker. Gray should be given the opportunity to challenge Daniel Thomas to be the offense's short-yardage back. But it's still unclear if Miami is ready to give up on Thomas–a former second-round pick–if he's outplayed in the preseason.
Fullback/H-Back (1): Charles Clay
Cuts: Jorvorskie Lane, Evan Rodriguez
Charles Clay took first-team reps at fullback against the Cowboys, so it appears Jorvorskie Lane's days are numbered. Lane has become a significant contributor on special-teams, but he's being phased out of the offense. He also missed reps at practice this week with an undisclosed injury.
Tight End (2): Dustin Keller, Dion Sims
Cuts: Michael Egnew, Kyle Miller
Despite four catches for 52 yards in the preseason opener, Michael Egnew still needs to show some consistency before he cracks the 53, in my opinion. Perhaps even more encouraging than making plays down field, Egnew held his own in the trenches as an in-line blocker. It looks like Egnew has indeed improved and let's not forget he was a third-round pick only 16 months ago. Egnew barely misses the cut on this installment of 53-Man Roster Snapshot. But with more of the same we saw on Sunday, he'll be well on his way to securing a spot. Our second cut, Kyle Miller, has been coming on strong as of late–including a touchdown in Canton–but he's apparently suffered an injury of some sort and disappeared from practice this week.
Wide Receiver (5): Mike Wallace, Brian Hartline, Brandon Gibson, Chad Bumphis, Rishard Matthews
Cuts: Marvin McNutt, Kenny Stafford, Brian Tyms, Jeff Fuller, Julius Pruitt, Keenan Davis, Andrell Smith
It's really anyone's guess who would win the fourth and fifth receiver spots if cuts were made today. Those players might not even be on the roster, as the Dolphins could easily turn to the waiver wire to fill those roles. Assuming Chad Bumphis continues to make plays and Rishard Matthews can return in time for the third or fourth preseason game, I think they'd be the choices right now. I have to admit, while not willing to buy his stock yet, Bumphis has impressed me. Matthews, meanwhile, is a more proven player than any of the listed cuts. It's just a matter of getting healthy. I expect Marvin McNutt and Brian Tyms to be considered. Both were seen taking snaps with the first team when Mike Wallace and Brian Hartline were sidelined. But I'm not sure McNutt's hands can be trusted and Tyms still needs to make more plays.
Offensive Line (9): Jonathan Martin, Richie Incognito, Mike Pouncey, John Jerry, Tyson Clabo, Dallas Thomas, Josh Samuda, Lance Louis, Nate Garner
Cuts: Will Yeatman, Andrew McDonald, Jeff Adams, Chandler Burden, Chris Barker, Sam Brenner, Jeff Braun
John Jerry's health is the big wild card along the offensive line. Will he return in time for Week 1 in Cleveland? If he can't and a player like Josh Samuda runs away with the right guard spot during the exhibition games, I wouldn't be surprised if Jerry got the axe. I wouldn't be surprised if free-agent acquisition Lance Louis becomes susceptible either. Louis is now a full participant at practice, but he's yet to assume first-team reps. If he doesn't eventually challenge for the starting right guard opening, the Dolphins might not have much use for him. Don't count out listed cut Will Yeatman to play his way onto the roster. With how bad second-team left tackle Dallas Thomas was in the first exhibition game, Miami must find a capable backup to Jonathan Martin at the position.
DEFENSE (25)
Defensive Line (9): Cameron Wake, Randy Starks, Paul Soliai, Jared Odrick, Olivier Vernon, Dion Jordan, Vaughn Martin, Kheeston Randall, Derrick Shelby
Cuts: Tracy Robertson, Chris Burnette, Tristan Okpalaugo, Emeka Onyenekwu, A.J. Francis
Second-year defensive end Derrick Shelby steals a roster spot on our updated snapshot after his two-sack performance in Canton. But I'd be surprised if the Dolphins kept nine defensive linemen when final cuts are made. With Randy Starks banged up, however, I don't see Miami letting go of Vaughn Martin. When Starks returns, Martin will become vulnerable.
Linebackers (7): Dannell Ellerbe, Philip Wheeler, Koa Misi, Jelani Jenkins, Austin Spitler, Jason Trusnik, Josh Kaddu
Cuts: Jonathan Freeny, Michael Clay, Alonzo Highsmith, David Hinds, Lee Robinson
Not much change at linebacker since our last edition. Jonathan Freeny made some noise by recording three tackles and blowing up a screen pass in the first half against the Cowboys, but we still need to see more from him if he wants to surpass Josh Kaddu, who the Dolphins like. The two will be battling for the final opening at linebacker, assuming Miami keeps seven players at the position. If both Kaddu and Freeny impress, Jason Trusnik could be the odd man out. Trusnik is a big contributor on special teams, however, so it'll take a consistent effort.
Cornerback (5): Brent Grimes, Dimitri Patterson, Richard Marshall, Will Davis, Jamar Taylor
Cuts: Nolan Carroll, R.J. Stanford, De'Andre Presley, Julian Posey
Derrick Shelby claiming a roster spot at defensive end made keeping six cornerbacks again a difficult task. So, Nolan Carroll finds himself among the cuts. A sixth spot at corner could eventually open up, though, if the Dolphins choose to keep one less player along the defensive line or at linebacker. Not to mention Richard Marshall, who is owed $4.55 million in 2013, has been replaced on the first team by Dimitri Patterson on most practice days. Marshall is no guarantee to make the team and a player like Carroll or even De'Andre Presley, who returned punts and kicks in the opener, could take advantage of that. But if the Dolphins are willing to spend the money, Marshall could make a fine nickel corner if he doesn't start opposite Brent Grimes. Marshall was signed by the Dolphins over a year ago to play the nickel anyway.
Safety (4): Reshad Jones, Chris Clemons, Jimmy Wilson, Kelcie McCray
Cuts: Don Jones, Jordan Kovacs, Keelan Johnson
Kelcie McCray's backup safety spot is certainly still up for grabs, although he distanced himself some during Miami's intrasquad scrimmage when he returned a Matt Moore interception for a touchdown. Rookie Don Jones is a freak athlete, but he needs to make an impact in the preseason to contend for a spot on the 53.
SPECIAL TEAMS (3): Caleb Sturgis K, Brandon Fields P, John Denney LS
Cuts: Dan Carpenter
After a rough start to training camp, rookie kicker Caleb Sturgis has rebounded nicely. He's been kicking extremely well at practice as of late and should be the one kicking on Friday night in Jacksonville. It's pretty simple, really: The $2.675 million Dan Carpenter is slated to make this season is more than the rookie's entire four-year contract. Sturgis is bound to win this competition if he avoids horrible performances in the preseason.
THE ROSTER BUBBLE
Last five on: Derrick Shelby, Jonas Gray, Richard Marshall, Josh Kaddu, Chad Bumphis
First five off: Will Yeatman, Michael Egnew, Nolan Carroll, Jonathan Freeny, Brian Tyms
Next five off: Marvin McNutt, Don Jones, Jorvorskie Lane, Keenan Davis, Kyle Miller