The Miami Dolphins did everything imaginable this offseason to assure a winning team in 2013.
Well, almost.
They loaded up on weapons for Ryan Tannehill, remodeled an aging linebacker corps, addressed the pass rush and renovated the secondary. But there is one position where a step in the wrong direction could be imminent.
The Dolphins pursed keeping Jake Long in Miami, but the former All-Pro left tackle ultimately bolted for St. Louis, leaving a void on Ryan Tannehill's blind side. Protecting the potential franchise quarterback should be the offensive line's primary responsibility. Whether or not they will be able to do so consistently is anyone's guess.
The Dolphins did make an effort to improve on the right side of the line, signing former Pro Bowler Tyson Clabo to play right tackle and Lance Louis to compete at right guard. But Jonathan Martin moving over to left tackle has many Dolphins fans feeling uneasy. And understandably so.
Miami's offense has the personnel to be a high-scoring unit in 2013. Poor protection could negate that potential.
It will be interesting to see how the line begins to take shape in camp.
SAFE
Mike Pouncey, C: Many fans are understandably upset with Pouncey after he supported former Florida Gator teammate Aaron Hernandez, who's on trial for murder, by wearing a "Free Hernandez" hat.
But you'd be hard-pressed to find anything to complain about regarding Pouncey's game.
Athleticism and strength comprise a rare skill set that enables him to effectively do everything the center position requires. Pouncey is always quick off the snap, holds his ground consistently in the run game and rarely lets the pocket collapse in pass pro.
Perception says he's a good center. Game film dictates he's one of the best two or three players at the position in the entire league.
Tyson Clabo, RT: The Dolphins chose to move Jonathan Martin to left tackle to fill the void left by Jake Long. But by doing so, they created another hole at right tackle.
Luckily, the open market had several quality options. In the end, Tyson Clabo–a Pro Bowler in 2010–was the right fit.
At 31 years old, Clabo probably isn't in the Dolphins' long-term plans, but he should provide the adequate protection and push the position needs for 2013.
Richie Incognito, LG: In tight spaces, Incognito is one of the best guards in all of football. He has the raw power to hold up against the bull rush in pass pro and to knock defensive linemen back when run blocking.
He doesn't fare nearly as well in space, though, lacking the athleticism to pull and struggles when he has to reach to make contact.
His starting job doesn't appear to be in jeopardy this season, but the Dolphins could look to replace him with a better fit for their zone-blocking scheme in the future. Third-round pick Dallas Thomas may eventually push him for that left guard spot.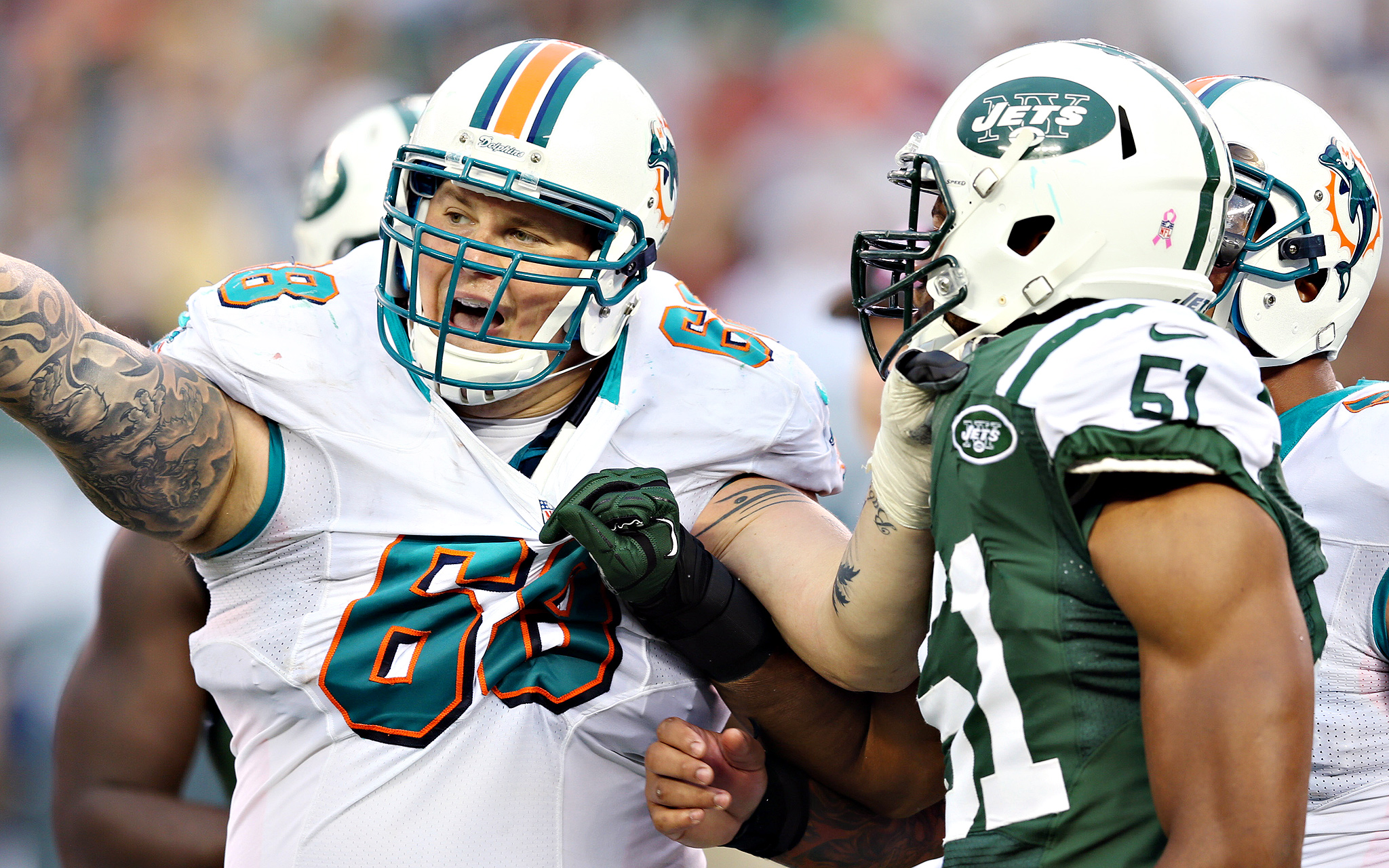 Jonathan Martin, LT: Besides quarterback Ryan Tannehill, there probably isn't a player on the roster that will be facing more pressure to perform in 2013.
If Jonathan Martin is unable to provide consistent protection on Tannehill's blind side, the Dolphins' suddenly high-powered offense may never pull out of the driveway.
Encouragingly, Martin has the skill set to become a quality NFL left tackle. He struggled as a rookie on both sides of the line, but he did demonstrate the quickness to cut off speed rushers.
He was overpowered on many occasions, but adding strength is something that's correctable. Martin has reportedly bulked up this offseason. If he becomes a more powerful tackle, he'll be a far better one.
Dallas Thomas, OT/OG: The Dolphins likely didn't find a starter for 2013 at right or left tackle during the draft, but they did add quality depth in Dallas Thomas. Versatility too, as Thomas played both tackle and guard at Tennessee.
He's an excellent fit for the Dolphins' zone-blocking scheme, possessing ideal athleticism for the system. Thomas projects as a likely backup at tackle and guard this season, but could push for a starting job at left guard in a year or two if he's able to get stronger.
POSSIBLE CUTS
John Jerry, RG: The third-year pro out of Ole Miss may not have a starting job for long.
John Jerry does a more than adequate job as a pass blocker. He's a very strong lineman who can hold his ground against most. But in the running game, Jerry has a difficult time pulling and getting to the second level of the defense.
Weight issues and conditioning concerns have also held him back some, although he seems to be on the right track to erasing some of those doubts.
The Dolphins brought in competition for Jerry in Lance Louis. Fortunately for Jerry, though, Louis has been sidelined all spring and summer as he recovers from a torn ACL. If Louis is still not ready to go come training camp, Jerry will likely hold on to his job for the time being.
Lance Louis, RG: Miami signed former Chicago Bear Lance Louis to compete, but if he's deemed 100 percent at some point relatively soon, he'll become the favorite to start at right guard. He was still recovering from a torn ACL he suffered last November during June's minicamp, though.
Like Jerry, Louis is strong in pass pro. But he does have some trouble moving laterally when it comes to run blocking. With that said, he's believed to be a quality fit in the Dolphins' zone-blocking system.
Nate Garner, OT/OG: Garner is the ultimate utility offensive lineman, with the ability to play tackle, guard and even center in an emergency situation.
He doesn't excel at any one particular position, but his ability to play just about all of them should keep him around in Miami for at least another season.
Josh Samuda, C/OG: As a standout undrafted free agent out of Massachusetts, Samuda surprised many by making the team during last year's camp. His 2013 roster spot isn't assured, but the Dolphins need a backup center and Samuda appears to be the most capable option they have for that role.
Will Yeatman, OT: After playing football and lacrosse in college, Yeatman signed a free-agent deal with the Patriots following the 2011 draft to play tight end. He was cut after the preseason, though, and the Dolphins pounced on the opportunity to claim him off the waiver wire.
The Dolphins converted Yeatman to tackle last season where they believe he has potential to develop. He has a lot to prove, though, if he wants to make the 53-man roster.
LIKELY CUTS
Jeff Adams, OT: The undrafted rookie out of Columbia will look to provide the Dolphins depth at tackle.
Chandler Burden, OG: The former Kentucky Wildcat will attempt to make the transition from playing tackle in the SEC to guard with the Dolphins.
Andrew McDonald, OT: McDonald showcased some impressive athleticism at Indiana, but he's a longshot to make the team.
Chris Barker, OG: Barker has the tools to play in a zone-blocking scheme, but competing for a spot on the practice squad seems to be more likely than sticking on the 53.
Sam Brenner, C: An undrafted center in Josh Samuda was able to make the team last summer for the Dolphins. There lies hope for Utah product Sam Brenner.
PREDICTIONS
Depth Chart
Left Tackle
1. Jonathan Martin
2. Dallas Thomas
Left Guard
1. Richie Incognito
2. Dallas Thomas
Center
1. Mike Pouncey
2. Josh Samuda
Right Guard
1. Lance Louis
2. John Jerry
Right Tackle
1. Tyson Clabo
2. Nate Garner
Cuts
Will Yeatman
Jeff Adams
Chandler Burden
Andrew McDonald
Chris Barker
Sam Brenner
Countdown to Camp: 4 days