It's a college football tradition. Preseason All-American and conference teams are a great way to pit some of the NCAA's top talent against one another before the season begins.
The rosters are primarily based on past accomplishments and projections and oftentimes don't hold up to what actually happens on the field. But it's a fun exercise nonetheless and a great way to inspire some debate.
The NFL doesn't devise any such preseason teams, but that doesn't mean we can't.
What better way to kick off the last week without football than to put together an All-AFC East squad to see how some of the Dolphins' best players match up against their hated division rivals.
Feel free to slam the list, praise it or make your own in the comments!
OFFENSE
Quarterback: Tom Brady, New England Patriots
New England's receiver corps may be more pedestrian than ever, but the man under center is still one of the league's best. Tom Brady will elevate the entire offense, but the unit's ceiling may be lowering with the departures of Wes Welker and Aaron Hernandez and with Rob Gronkowski recovering from offseason back surgery.
It will be interesting to see if Brady shows any signs of slowing down at 36 years old. If so, Ryan Tannehill could be waiting to take over the reigns as the division's top quarterback in the next two or three years.
Running Back No. 1: C.J. Spiller, Buffalo Bills
Spiller's 6.0 yards per carry in 2012 tell the whole story. He's one of the league's fastest at the position and is a threat to score every time he touches the ball. With more carries, Spiller could emerge as a top-five back in 2013.
Running Back No. 2: Stevan Ridley, New England Patriots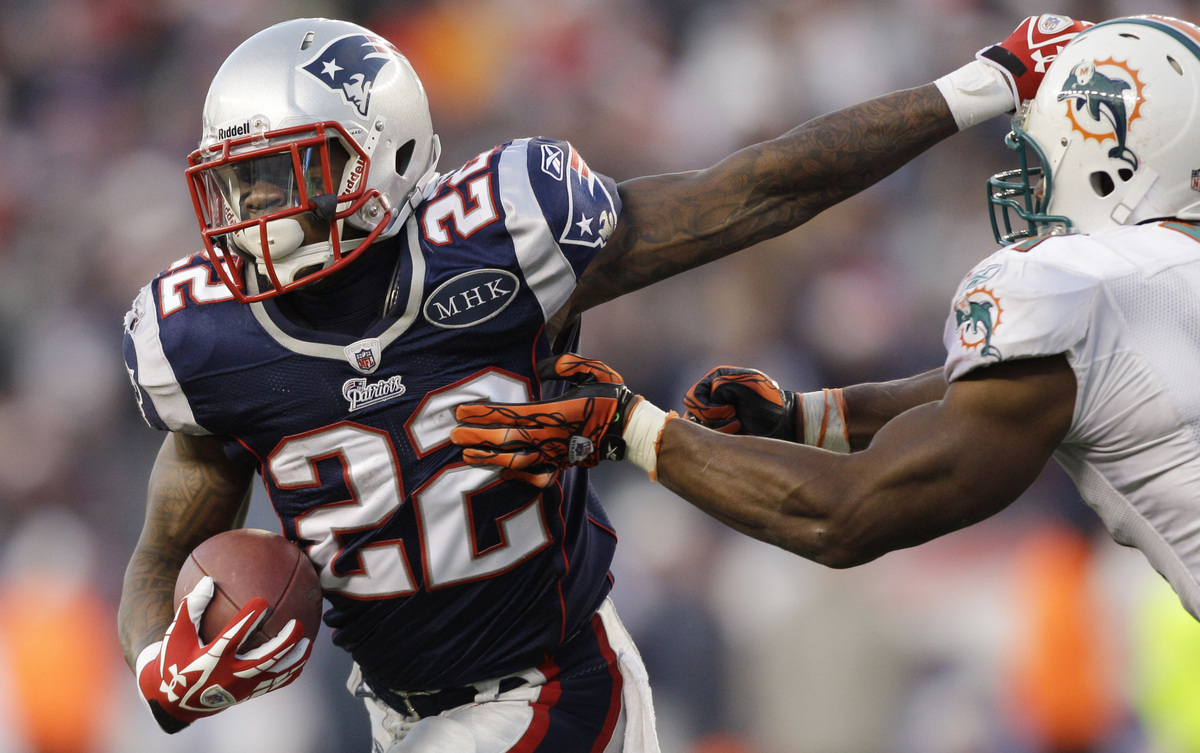 As the division's most productive back, third-year pro Stevan Ridley was one of the AFC East's biggest surprises in 2012. His 1,263 rushing yards was good enough for seventh in the entire league and his 12 touchdowns tied for third.
Ridley may be relied on even more in 2013 if New England's passing attack takes a step back.
Wide Receiver No. 1: Mike Wallace, Miami Dolphins
It's always difficult to predict how a receiver will play on a new team, catching passes from a new quarterback. But it's hard to deny that Wallace is the division's most talented wideout.
He finally gives the Dolphins a player the rest of the division will fear and Ryan Tannehill a reliable deep threat. Will he be the AFC East's most productive receiver at end of the year? $60 million says he better be.
Wide Receiver No. 2: Stevie Johnson, Buffalo Bills
Stevie Johnson gets the nod over Dolphins' 1,000-yard receiver Brian Hartline because he finds the endzone. Johnson's six touchdowns in 2012 are as many as Hartline has managed his entire career. He'll look to top the 1,000-yard milestone for the fourth consecutive season in 2013.
Tight End: Rob Gronkowski, New England Patriots 
Rob Gronkowski is clearly the division's best tight end when healthy, but reports that New England could place him on the PUP list to begin the season puts his availability in doubt.
If he's forced to miss the first six games, new Dolphins' tight end Dustin Keller would be next in line for a spot on this team. But for now, we'll give Gronkowski's health the benefit of the doubt.
Left Tackle: D'Brickashaw Ferguson, New York Jets
Ferguson was one of the few bright spots for the Jets on offense last season, going 13 straight games at one point without giving up a sack. If only he had a solidified quarterback to protect.
Right Tackle: Sebastian Vollmer, New England Patriots
Sebastian Vollmer graded out as one of the top tackles in all of football last year by Pro Football Focus and is a big reason why Tom Brady's jersey usually stays clean.
Guard No. 1: Logan Mankins, New England Patriots
If he can manage to play a full-16 game season in 2013, Mankins should resurface as one of the better offensive guards in football. He's missed 14 games over the past three years for the Patriots, though, and needs to show more durability in 2013.
Guard No. 2: Willie Colon, New York Jets 
Andy Levitre and Brandon Moore leaving the AFC East in free agency has left the division thin at the guard position. The Jets signed former Steeler Willie Colon this offseason, though, who was solid in six seasons in Pittsburgh.
Colon is a good player, but isn't the top ten guard Brandon Moore was for the Jets.
Center: Mike Pouncey, Miami Dolphins
The Dolphins' center is in a bit of hot water after the "Free Hernandez" hat-wearing fiasco. PR issues aside, Pouncey is one of the best in the business. He's the main reason for optimism on an offensive line with its fair share of uncertainty.
Pouncey has yet to be named to the Pro Bowl, but that's more of an indictment on the game's selection process than any knock on his play.
DEFENSE
Pass Rusher No. 1: Cameron Wake, Miami Dolphins
Dolphins defensive end Cameron Wake is the best defensive player in the division and No. 2 isn't that close. He's more than capable of challenging Jason Taylor's franchise record of 18.5 sacks in a season if he can stay healthy and doesn't show any signs of slowing down at age 31.
Pass Rusher No. 2: Mario Williams, Buffalo Bills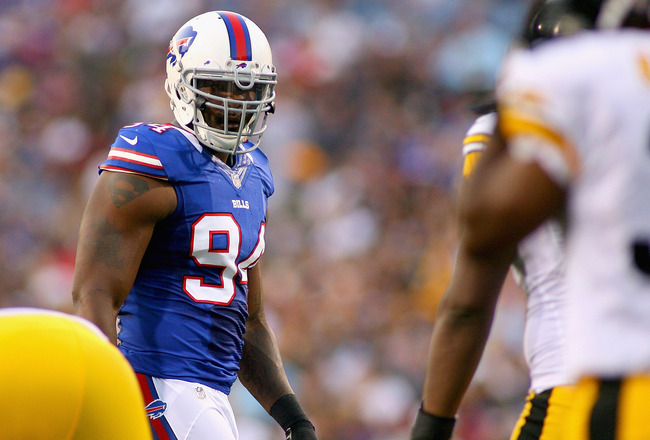 Williams' 2012 campaign was highly regarded as a disappointment after inking a $96 million contract with the Bills last offseason. But he still managed 10.5 sacks and was solid against the run.
New England's Chandler Jones may be a popular choice for this spot, but Williams gets one more chance to dominate in Buffalo.
Interior Defensive Lineman No. 1: Kyle Williams, Buffalo Bills
Kyle Williams has been a monster for Buffalo's defensive line, solidifying himself as a top-five tackle and one of the most underrated players in the entire NFL.
He does a fantastic job of eating up blockers against the run and can also provide pressure on the quarterback by collapsing the pocket.
Interior Defensive Lineman No. 2: Vince Wilfork, New England Patriots
Wilfork has been virtually impossible to block one-on-one for nine seasons now in New England. Running between the tackles is never an easy task against the Pats, as opposing offenses must assign two offensive linemen to block Wilfork at all times.
It will be difficult for the 31-year-old veteran to hold off promising young players like Buffalo's Marcell Dareus and the Jets' Muhammad Wilkerson for a future spot on this team, though.
Linebacker No. 1: Jerod Mayo, New England Patriots
After nearly notching 150 tackles in 2012, Pro Football Focus graded Mayo the league's second best outside linebacker behind only Denver's Von Miller.
He also provided the Patriots with 3.0 sacks, 4 forced fumbles and an interception, proving that he can rack up tackles and make game-changing plays as one of the top linebackers in football.
Linebacker No. 2: Dannell Ellerbe, Miami Dolphins
Ellerbe was outstanding when Ray Lewis was sidelined with a torn triceps for Baltimore last season. He hasn't proven the ability to play at high level for a full-16 game season as a starter, but his potential to do so is enough to get him on this team.
Linebacker No. 3: Philip Wheeler, Miami Dolphins
Like Ellerbe, new Dolphins outside linebacker Philip Wheeler has a lot to prove. His 2012 season in Oakland was very impressive, but he must erase doubt that he could be just a one-year wonder in Miami, where he'll be expected to be an upgrade over the solid Kevin Burnett.
Cornerback No. 1: Antonio Cromartie, New York Jets
Cromartie will never be the lockdown cover corner Darrelle Revis was shadowing opposing team's No. 1 targets for the Jets. He's a playmaker, though, and is always a threat to score when he's able to get his hands on the football.
Cornerback No. 2: Brent Grimes, Miami Dolphins
This is a bit of risk considering Grimes is returning from a torn Achilles. But the former Atlanta Falcon was a Pro Bowl cornerback before the injury and appears to be 100 percent recovered.
He played very well for the Dolphins during OTAs and minicamp but needs to continue to do so when the pads come on next week.
Free Safety: Jairus Byrd, Buffalo Bills
The former Oregon Duck has established himself as one of the NFL's top ball-hawking safeties, totaling 18 interceptions in his first four seasons. Buffalo can only hope they're able to lock him up with a multiyear deal at some point, as Byrd is scheduled to hit the open market in 2014.
Strong Safety: Reshad Jones, Miami Dolphins
The best player in Miami's secondary didn't get near the credit he deserved for an outstanding 2012 season. He's a hard-hitting safety that picked off four passes a year ago for the Dolphins.
If 2013 proves to be more of the same, expect Jones to cash in with a lucrative, long-term contract in Miami or elsewhere next offseason.
SPECIAL TEAMS
Kicker: Stephen Gostkowski, New England Patriots
Gostkowski has been reliable for the Patriots for seven seasons.
Punter: Brandon Fields, Miami Dolphins
50.2 yards per punt in 2012. Enough said.
Return Specialist: Leodis McKelvin, Buffalo Bills
Returned two punts for scores last season and averaged 28.3 yards per kickoff return.
Standings 
New England Patriots: 8
Miami Dolphins: 8
Buffalo Bills: 6
New York Jets: 3