Putting together a seven-round mock draft may be a big waste of time. It's hard enough to speculate which domino will fall first, let alone seven rounds of them.
But it's a fun activity, nonetheless. It's interesting to see which prospects might come into play in the middle to late rounds for the Dolphins as they attempt to fill several needs and load up on young, promising talent. With that said, I thought I would take a stab in the dark with my own seven-round mock.
Let me know what you think and feel free to create your own seven-round mock in the comments!
Round 1, pick 12: Tyler Eifert, TE, Notre Dame
There has been talk of the Dolphins trading down into the 20's. This is pure speculation, but I only think they will do so if Tyler Eifert is no longer on the board. Eifert just makes too much sense for the Dolphins if he's still available. A 6-6, 250 pound red-zone target for Tannehill and a long-term solution at tight end; Eifert is the pick.
Round 2, pick 42: Alex Okafor, DE, Texas
A potential first-round pick and one of the nation's most productive pass rushers falls into the Dolphins' lap with their first second-round pick. I believe Miami has their sights set on taking a cornerback here, but an impact pass rusher will be too tempting to pass up for Ireland.
Okafor may not be ready to contribute as an every-down starter, as there are some questions about his ability to hold up against the run. But he could help Cameron Wake get after the quarterback on passing downs as he develops behind Jared Odrick and competes for reps with Olivier Vernon.
Round 2, pick 54: Darius Slay, CB, Mississippi State
The Dolphins snag a solid zone-coverage corner in Mississippi State's Darius Slay. Some teams will be scared away by Slay tearing his meniscus in February, but his status for Week 1 shouldn't be in jeopardy. Slay possesses a great combination of size (6-0, 192) and speed (4.36), and would be a steal for the Dolphins if he can stay healthy. Round 3, pick 77: *Traded to Chiefs for LT Branden Albert*
The Chiefs have to trade Albert. They are going to select a left tackle with the first overall pick, they are paying Albert $9 million this season, and he reportedly refuses to play right tackle. The Dolphins shouldn't feel pressure to give up one of their second-round picks. Not when the Chiefs have to trade him and Miami would be required to sign Albert to a fat contract. I think both sides realize that the Dolphins have the leverage here and Ireland eventually lands Albert for a third.
Round 3, pick 82: David Amerson, CB, N.C. State
The Dolphins double up at corner by selecting one of the top ball hawks in the draft. Amerson had an up and down junior season, which has considerably hurt his stock, but he would provide the Dolphins solid value in the third. He also potentially has the ability to play safety, giving the Dolphins some versatility with this pick.
Round 4, pick 111: Le'Veon Bell, RB, Michigan State
Daniel Thomas has struggled with ball security issues and staying healthy. Lamar Miller should be fine as the starter, but the Dolphins cannot count on Thomas to carry the load as the short-yardage back. Bell would provide Thomas with some much needed competition and could unseat him as Miller's sidekick.
Round 5, pick 146: Josh Evans, FS, Florida
Miami finds some secondary depth and potentially Chris Clemons' replacement at free safety. Evans is an all-around safety prospect that the Dolphins have been rumored to have interest in.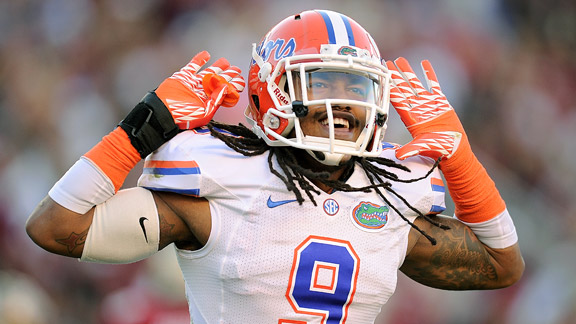 Round 5, pick 166: Jeff Baca, OG, UCLA
Jeff Ireland finally drafts an offensive lineman, selecting UCLA's Jeff Baca. Baca would be a good fit in the Dolphins' zone-blocking scheme and could compete with John Jerry and Lance Louis at right guard.
Round 7, pick 217: Chad Bumphis, WR, Mississippi State
The Dolphins find a speedy slot receiver late in the draft with Bumphis. Drafting a receiver in the seventh round probably won't lead to Davone Bess getting the axe, but Bumphis could eventually develop into Miami's primary slot and could also contribute returning kicks.
Round 7, pick 224: Wes Horton, DE, USC
The Dolphins add to their depth at defensive end. Horton probably wouldn't be anything more than a camp body, but he does have some potential and could push for a roster spot if he's able to maximize it.
Round 7, pick 250: J.C. Tretter, OG, Cornell
The Dolphins find a solid athlete and developmental prospect along the offensive line with their final selection.