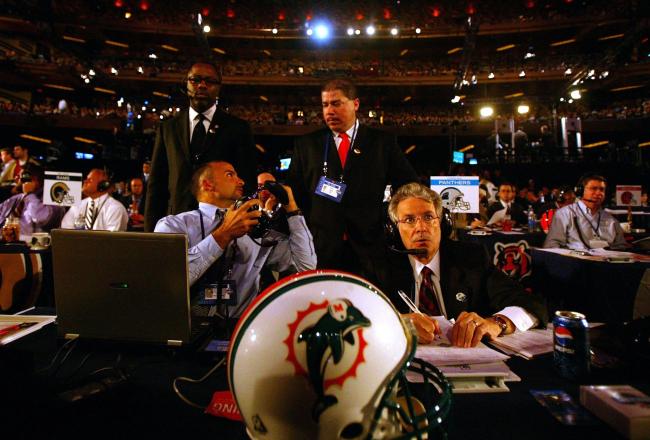 Don't forget to submit your vote for who you believe the Dolphins will select in our community mock draft in the comments section of yesterday's post. Doing so in the comments section of this post will work as well. Voting will be open all weekend and we will mock our pick for the Dolphins at 12th overall on Monday morning.
But now it's time to submit my vote. In case you're arriving late to the party, here's how our mock has gone so far based on picks from writers all around the 'net:
#1 Kansas City Chiefs: Luke Joeckel, OT, Texas A&M
#2 Jacksonville Jaguars: Geno Smith, QB, West Virginia
#3 Oakland Raiders: Star Lotulelei, DT, Utah
#4 Philadelphia Eagles: Dion Jordan, DE/OLB, Oregon
#5 Detroit Lions: Eric Fisher, OT, Central Michigan
#6 Cleveland Browns: Dee Milliner, CB, Alabama
#7 Arizona Cardinals: Lane Johnson, OT, Oklahoma
#8 Buffalo Bills: E.J. Manuel, QB, Florida State
#9 New York Jets: Barkevious Mingo, OLB, LSU
#10 Tennessee Titans: Chance Warmack, OG, Alabama
#11 San Diego Chargers: Kenny Vaccaro, S, Texas
#12 Miami Dolphins
GM: Cody Strahm
Site: Dolphins Gab
The pick…
Tyler Eifert, Tight End, Notre Dame
Rationale: If the board falls this way and the Dolphins don't trade down in the first round, I really think the pick has to be Tyler Eifert.
Contrary to popular belief, I don't see the Dolphins drafting a corner at 12th overall unless it's Alabama's Dee Milliner, who went 6th in our mock. There is just too much value at the position in round two.
I suppose Ziggy Ansah and Jonathan Cooper will be considered. But I really get the vibe that the Dolphins are content with starting Jared Odrick opposite Wake and continuing to develop Olivier Vernon as a pass rusher.
As for Cooper – an athletic, pulling guard that would fit Philbin's zone-blocking scheme like a glove – I just think 12th overall is a little too high for the position. Cooper projects to be a very solid player, but he's far from a game-changer.
The Dolphins can find a true difference maker by selecting Tyler Eifert. Yes, Jeff Ireland signed Dustin Keller last month to address the void at tight end, but Keller will be a free agent again in 2014 and there is still a need for another contributor in 2013.
There is one piece still missing from Ryan Tannehill's new, improved arsenal. That piece? A tall, athletic red-zone target for Tannehill to rely on when the field gets smaller. There isn't a jump-ball receiver or tight end currently on the Dolphins' roster.
Sure, the offense will be far less inept in the red area than they were in 2012 as is. The additions of Mike Wallace, Brandon Gibson, and Dustin Keller will all help contribute to less field goals and more touchdown passes. But those guys aren't 6'6, 250 like Eifert. Keller is 6'2, while Wallace and Gibson are 6'0 even. Eifert is the jump-ball target this offense is missing.
Some will argue that the Dolphins need more of a pure blocker to complement Keller. Yes, Eifert has some room to grow as a blocker, but there are many that advocate he is underrated in the department. He always gives fantastic effort and he has the frame to continue to improve with some added strength.
And let's not pretend this league hasn't changed. There is still a place and a need for great blocking tight ends, but athletic pass catchers that can stretch the seam are far more valuable. And having two that can do so would be a true luxury, especially with Dustin Keller's injury concerns.
Tyler Eifert would answer questions for the present and the future Dolphins. He would make the Dolphins' offense better. He would make Ryan Tannehill better. He's my pick at 12.