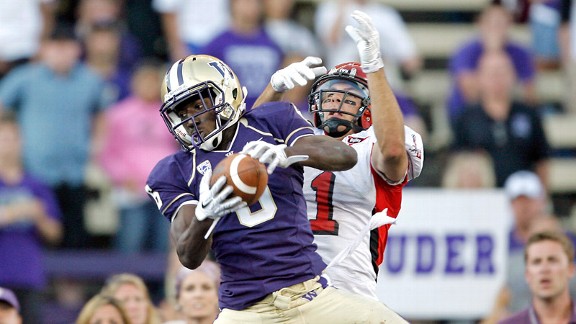 With news of an impending trade between the Dolphins and Chiefs for left tackle Branden Albert, Jason La Confora released this article last night suggesting that Miami would then target a cornerback with their first-round pick.
If this is indeed Jeff Ireland's plan, many will naturally assume that corner is Florida State's Xavier Rhodes. Dee Milliner will most likely be drafted in the top ten and Rhodes has probably been the most popular selection for Miami among expert mock drafts.
But hold off on writing Rhodes' name in pen for the Dolphins at 12th overall. There is a corner that would potentially be a much better fit in Kevin Coyle's defense with Miami's first-round pick.
Desmond Trufant, Cornerback, Washington
Height: 6-0
Weight: 190
40: 4.38
Vert: 37.5
Bench: 16 reps
Strengths: Has NFL size and athleticism. Great footwork and short-area quickness you look for. All-around corner that can excel in man-to-man or zone coverage. Shows flexibility in hips. Good recovery speed. Rarely allows separation.
Weaknesses: Could get stronger and isn't the most physical corner. Poor open-field tackler at times. Had a few mental lapses in coverage at Washington. Gives up the sideline at times against run.
Film Room
Why draft Trufant?
We've been over this before. The Dolphins ranked 27th against the pass in 2012, in large part because of only one legitimate starting corner on the roster. And that one legitimate starter (Sean Smith) was as inconsistent as they come. Not to mention that he is now a Kansas City Chief.
Miami's two biggest voids right now are at offensive tackle and cornerback. Jeff Ireland is supposedly doing whatever he can to address the need for a tackle with this reported Branden Albert trade in the works.The next priority should be addressing the secondary and finding a starter opposite Brent Grimes.
Desmond Trufant just makes too much sense. Unlike Xavier Rhodes, Trufant is a fantastic fit for a coverage scheme that plays a considerable amount of zone. The Dolphins are expected to do just that in 2013.
Desmond Trufant will likely be the best fit for the Dolphins' most pressing need when they are on the clock in the first round. He should be the pick, regardless if Miami trades down or not.
Why not?
Talk about a reach. Desmond Trufant isn't expected to be selected until the second round by many and no earlier than the late first by most.
Sure, he addresses a need for the Dolphins, but you don't get desperate and pull the trigger on a guy that could still be on the board a round later if you're Jeff Ireland. Maybe if Miami trades back to the late first round he would become a possibility, but no way, no how at 12th overall.
And like I've said before, this draft is deep at corner. The Dolphins can find a starter in the second or third at the position.
Take a game-changer with the first pick or address a lesser need where there is actually a huge falloff in talent after round one.