The next four picks of our mock draft are in. But first, let's recap what happened in picks 1-4. You can see the complete breakdown of these picks here.
#1 Kansas City Chiefs: Luke Joeckel, OT, Texas A&M
#2 Jacksonville Jaguars: Geno Smith, QB, West Virginia
#3 Oakland Raiders: Star Lotulelei, DT, Utah
#4 Philadelphia Eagles: Dion Jordan, DE/OLB, Oregon
Four picks in and there is still plenty of potentially elite talent on the board, including two of the top three offensive tackles in Eric Fisher and Lane Johnson. Will either Fisher or Johnson miraculously fall to into the Dolphins' lap at pick 12? Let's find out.
Please welcome in the writers that will be playing GM for the Lions, Browns, Cardinals, and Bills. And don't forget to check out their sites for more draft insight.
#5 Detroit Lions
GM: Justin Rogers
Site: M Live
The pick…
Eric Fisher, OT, Central Michigan
Rationale: The Lions have a gaping hole at defensive end, but Fisher is the best player on the board and still fills a need. With Jeff Backus retiring and Gosder Cherilus leaving via free agency, Detroit needs to retool the offensive line. 2012 first-round pick Riley Reiff will step in and fill one of the openings, but Fisher offers a clear, long-term upgrade over Jason Fox and Corey Hilliard at the other bookend.
#6 Cleveland Browns
GM: Rick Grayshock
Site: Waiting For Next Year
The pick…
Dee Milliner, CB, Alabama
Rationale: The Browns have addressed many areas of need through free agency. The one area that is truly lacking is the defensive backfield. The Browns could easily be a trade partner at 6, but if they take a player here, Milliner makes the most sense. Pairing him opposite Joe Haden would give the Browns a solid tandem.
#7 Arizona Cardinals
GM: Red C
Site: Revenge of the Birds
The pick…
Lane Johnson, OT, Oklahoma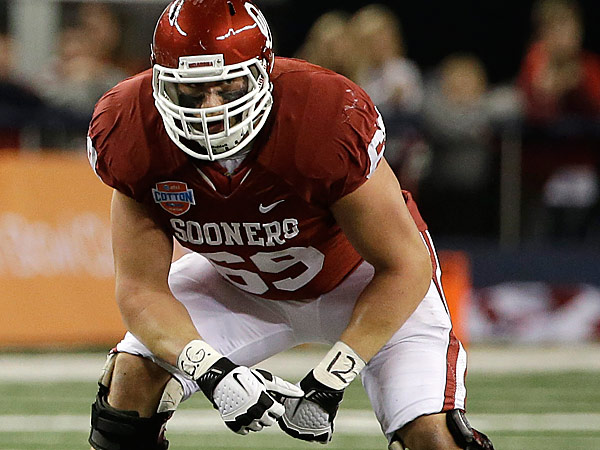 Rationale: I think the Cardinals have two or three options that they'd be happy with. Chance Warmack would be the safest player. Barkevious Mingo would fix an immediate need at a position that suffers a drop off early in the draft. Lane Johnson probably has to be the pick, though. He may have the lowest floor of the top three tackles, but he'll still play better than anyone the Cardinals have, and quality left tackles don't come around every day. The Cardinals can help out their interior line later in the draft.
#8 Buffalo Bills
GM: Matt Rich Warren
Site: Buffalo Rumblings
The pick…
E.J. Manuel, QB, Florida State
Rationale: I am not being cute with this pick. Insert a different QB like Barkley or Nassib if you want but I think they are going to get their guy at 8 and it's just as likely to be Manuel as the other two. Buffalo will not draft a guard here despite Chance Warmack's presence.
Analysis: As expected, it looks like the Dolphins' only chance to land Eric Fisher or Lane Johnson would be a trade up to pick sick or seven. Even though many people believe they will do just that, I really don't get the feeling Jeff Ireland is desperate to land a tackle in round one.
There will be solid options on the board when they select in round two and don't forget about a free agent market that is rich with quality starters at the position for Miami to fall back on. I'm starting to get the feeling that if Jeff Ireland is going to move in round one, it's going to be back into the 20's. But staying put at 12 will be enticing, especially with a plethora of options for the Dolphins to choose from.
**The New York Jets are now on the clock**