Once seemingly hated by the entire fanbase, Miami Dolphins general manager Jeff Ireland has, at the very least, bought himself some time this offseason.
The signings of Mike Wallace, Dannell Ellerbe, Dustin Keller, Phillip Wheeler, and Brent Grimes have improved an otherwise mediocre Dolphins' roster on paper. But anyone can recognize talent in free agency and convince some of the top players on the market to follow the money and all of the lures South Beach has to offer.
The general managers that stick around in this league are the ones that can consistently load up on talent in the draft. Jeff Ireland has the ammunition to do just that in the 2013 NFL Draft.
With five picks in the first three rounds, Ireland must find at least three or four key contributors to complete the process that began in March, helping the Dolphins emerge as a legitimate playoff contender. Not to be succumbed by the same fate that has doomed so many other big spenders in free agency over the years, ultimately sputtering to a losing record and falling well short of expectations.
Strike out in this draft with these resources and Ireland can expect a fanbase that has eased off his back to turn on him once again.
Let's take a step back from focusing on Ireland's options in this year's class, and take a look back at his track record, ranking his selections as GM thus far.
The verdict may still be out on some of these players, but we've seen enough to get an idea of how successful Ireland has been so far in the draft. Keep in mind, we are giving Ireland a pass from 2008-2010. Yes, he was technically the GM, but Bill Parcells was the dominant voice in the organization as VP of Football Operations.
So we will give Ireland the benefit of the doubt and refrain from putting busts like Pat White, Phillip Merling, Patrick Turner, and Chad Henne on this list. Let's rank the draft choices Ireland has made through two offseasons as the main man calling the shots.
1. Ryan Tannehill, QB, 2012 1st Round (8th overall): Ryan Tannehill didn't lead his team to the playoffs like three other rookie quarterbacks in an unprecedented year for rookie quarterback success. But he looked every bit the part of future franchise quarterback for a team that has been desperately searching for just that since the beginning of the millennium. Tannehill still has so much to prove and will now be expected to thrive given that the Dolphins have loaded up on weapons this offseason. But if he is able to answer the call, not only will this go down as Jeff Ireland's best draft selection, but maybe one of the top picks in franchise history.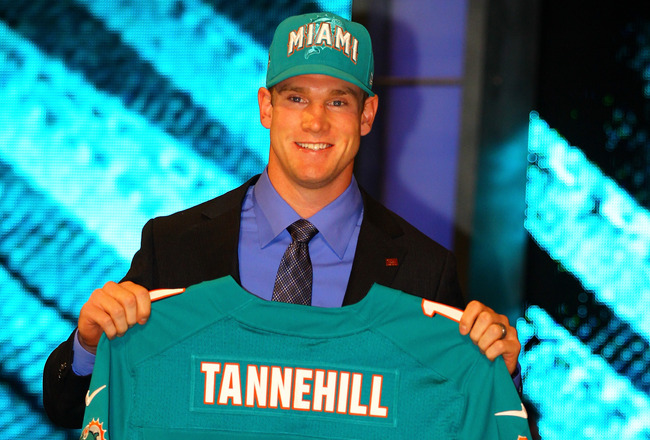 2. Mike Pouncey, C, 2011 1st Round (15th overall): Ireland went the safe route in 2011, selecting Florida center Mike Pouncey. Center may not be one of the most impactful positions in football but Pouncey has already begun to establish himself as one of the top centers in the league after two seasons. The Dolphins will now rely on Pouncey to be the leader of the offensive line after Jake Long bolted for St. Louis.
3. Lamar Miller, RB, 2012 4th Round (97th overall): Ireland found great value at running back by selecting former Cane Lamer Miller in the fourth round last April. Miller was graded as a second-round prospect but slipped all the way to round four where Ireland couldn't resist adding him to Miami's backfield. Miller projects as one of the NFL's breakout players in 2013, after averaging nearly five yards per carry as a rookie.
4. Jimmy Wilson, CB, 2011 7th Round (235th overall): Seventh-round picks rarely crack 53-man rosters, yet alone earn starting positions. But Jimmy Wilson, who has spent time at safety and corner, has started five games for the Dolphins in his first two seasons. A combination of poor secondary play and injuries catapulted Wilson into the lineup. Wilson has not exactly proven he belongs in a starting lineup, however, but he still provides the Miami secondary with depth and versatility. He is also a quality special-teams contributor.
5. Charles Clay, FB/TE, 2011 6th Round (174th overall): Clay hasn't materialized into this offense's receiving threat at tight end like many had once hoped but he was still a quality grab in the sixth round. His 445 yards receiving and five touchdowns in his first two seasons prove that he can provide quality depth. His versatility to play tight end, fullback, and H-back also improve his stock.
6. Jonathan Martin, OT, 2012 2nd Round (42nd overall): This may seem a little low for a player that started every game as a rookie. But Martin was given a starting spot. He didn't have any quality competition to beat out for the job. And he definitely had his fair share of struggles as a rookie. He wasn't horrible but he was far from good. The Dolphins expect Martin to improve significantly in his second season. And he better, or Ireland's decision to let Jake Long sign with the Rams and likely entrust Martin with protecting Tannehill's blindside, may ultimately be this Dolphin offense's shortcoming.
7. Rishard Matthews, WR, 2012 7th Round (227th overall): Matthews looked solid in brief action as a rookie, catching 11 passes for 151 yards. He'll have much more competition this summer attempting to make the 53-man roster again but he may be able to provide the Dolphins solid depth at the receiver position as the fourth or fifth option. Matthews was a quality pickup by Ireland that late in the draft.
8. Olivier Vernon, DE, 2012 3rd Round (72nd overall): Ireland selected Olivier Vernon last April with hopes of the Miami product developing into Cameron Wake's complement in the pass rushing department. Vernon was a little rawer than the Dolphins would have liked as rookie but he certainly has the potential to eventually develop into the rusher this defense is missing. At the very least, he provides depth and is solid on special-teams.
9. Frank Kearse, DT, 7th Round (231st overall): Kearse is no longer with the Dolphins but he has caught on nicely in Carolina. He has actually started 8 games in two years with the Panthers.
10. Kheeston Randall, DT, 7th Round (215th overall): Managed to record 8 tackles in brief action as a rookie. Miami hopes he can continue to develop in order to add to the seemingly always deep interior defensive line.
11. Josh Kaddu, LB, 5th Round (155th overall): Kaddu is a promising developmental prospect at linebacker. Spent some time on the 53-man roster last season but rarely saw the field.
12. B.J. Cunningham, WR, 2012 6th Round (183rd overall): A current member of the Philadelphia Eagles practice squad, Cunningham was a non-factor last preseason for the Dolphins.
13. Daniel Thomas, RB, 2011 2nd Round (62nd overall): The Dolphins traded three picks to move up into the second round to select Kansas State running back Daniel Thomas in 2011. Thomas has since struggled to stay healthy, hold onto the football, and hit holes consistently. Hopefully, he can still develop into a quality runner and he has certainly flashed the ability to do so. But the Dolphins probably aren't banking on it. I wouldn't be surprised to see Ireland take a running back as high as the third round in this year's draft.
14. Clyde Gates, WR, 2011 4th Round (111th overall): Gates was supposed to be the deep threat the Miami Dolphins offense was missing two years ago. The speed to become so was always there. The technique and route-running ability wasn't, unfortunately. Gates ultimately struggled to have an impact at receiver and wasn't even able to develop into a productive return man. He was cut last preseason before finding a home with the rival Jets.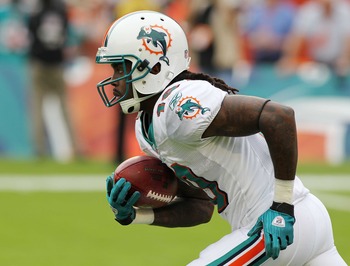 15. Michael Egnew, TE, 2012 3rd Round (78th overall): Looked completely in over his head last preseason. Struggled as a blocker, dropped easy passes, and honestly didn't look physically or mentally tough to handle the NFL. Some are still holding out hope Egnew can develop in his second season. I just don't see it, though, and chances are he is cut this summer.
Agree with this list? Feel Ireland has done decent or poor in his first two drafts as the main man? Feel free to share in the comments.