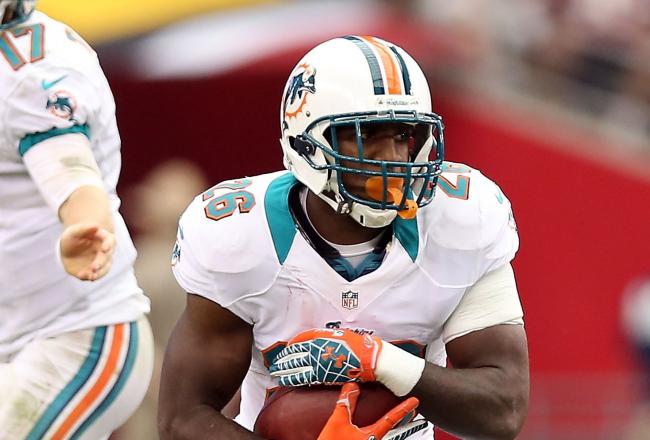 Most of the speculation surrounding what the Dolphins will do in this month's draft has centered on adding pass catchers, offensive lineman, pass rushers, and defensive backs.
Lost in most of this chatter, though, has been the need for Jeff Ireland to add at least depth at the running back position if not find a complement to expected starter Lamar Miller.
I, like most, have high hopes for Miller. He looked more than capable in his 51 attempts as a rookie and his 4.9 yards per carry back that up. I would even go as far as to say Miller was a more consistent runner than Reggie Bush and would have liked to see him get more carries to prove it.
The question about how much of a need running back is for the Dolphins really has nothing to do with Miller. The concern falls squarely on the shoulders of third-year back Daniel Thomas.
Work-horse runners are a dying breed. And even if they weren't, Lamar Miller is much closer to a scatback than a power runner that could fit that mold. He is going to need a counterpart for the Dolphins' rushing attack to be productive this season.
Daniel Thomas certainly has some of the tools you would look for, for that role. He's bigger, more powerful and his skill set complements what Miller brings to the table nicely. The problem is, he's been awfully inconsistent in his first two seasons.
Thomas ran hard at times but his 3.6 yards per carry average as a rookie and his 3.5 yards per carry last year show the production just hasn't been there. He has struggled staying healthy as well, having missed a combined seven games so far in two seasons. If you're going to succeed as a power back in this league, you have to be durable.
Thomas has also had difficulty hanging on to the football. He's fumbled five times as a Dolphin, proving right many scouts who warned about Thomas' ball security issues coming out of Kansas State.
Needless to say, the Dolphins would be wise to consider some competition for that number two role. But how big of a need is this? Big enough to invest a second-round pick on a back like Alabama's Eddie Lacy or UNC's Giovani Bernard?
Personally, I don't think so. And that's not a slight on Lacy or Bernard. It's a slight on the position. It's no secret that running backs just aren't as valuable as they used to be. They don't last as long and quality starters are easy to find in the middle to late rounds of the draft.
And the middle to late rounds is exactly where I would address the issue if I was Jeff Ireland. There are plenty of backs in the later rounds that can at least provide competition for Thomas if not unseat him as Miller's sidekick.
Guys like Stanford's Stepfan Taylor and Wisconsin's Montee Ball would be excellent fits in the third or fourth round. In the fourth or fifth range, Ireland could snag a back like Texas A&M's Christine Michael or Michigan State's Le'Veon Bell. I just see too much value at running back in the middle rounds to invest another second-round pick on the position.
What do you guys think? Would you take a back like Eddie Lacy in round two, hold off on addressing the need until the middle to late rounds, or do you believe enough in Daniel Thomas to forgo drafting a RB all together?