As free agency winds down and the calendar turns to the month of April, Dolphins GM Jeff Ireland will now begin to focus his attention on the 2013 NFL Draft to address the team's remaining needs and to further shore up the roster. However, the Dolphins did acquire a couple under the radar free agents this week, signing former Bears offensive guard Lance Louis to compete with John Jerry on the right side and former San Diego Charger Vaughn Martin to add depth at defensive tackle.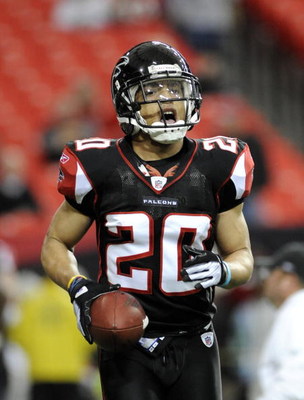 But the Dolphins could still realistically add one or two more potential starters before April's draft. And they may need to if Jeff Ireland wants to avoid having to draft for need instead of focusing on grabbing the best player available, as Miami still has voids at right tackle, cornerback, and defensive end. Here is a list of several players that the Dolphins have been linked to and could be up for signing if the price is right:

Brent Grimes, Cornerback

CBSSports.com's Jason LaCanfora
reported that the Dolphins are making a push to sign former Atlanta Falcons cornerback Brent Grimes. It has been widely speculated that Grimes will decide between the Buccaneers, Browns, and Dolphins.
But Tampa Bay reportedly dropped out of the running this week as they are possibly setting their sights on reeling in Darrelle Revis from the Jets. And the Browns signed former Lions corner Kevin Barnes this week and also could be heavily interested in selecting Dee Milliner, the top CB prospect in the draft, with the 6
th
 overall pick. So Grimes to Miami appears to be a strong possibility and a deal could be completed any day now. As a former Pro Bowler, Grimes would obviously bolster perhaps the weakest position on the team if he checks out medically after tearing his Achilles last season.
Eric Winston, Right Tackle
Jake Long signing with the Rams and Jonathan Martin likely moving to the left side for good opened up a huge void at right tackle. And Eric Winston, a former Miami Hurricane, has made it pretty clear he would love nothing more than to return to South Florida. But it appears the Dolphins are unwilling to commit to Winston long term, likely assuring that the 29-year old veteran signs elsewhere.
Ryan Tannehill's protection will likely depend on Jeff Ireland's ability to draft a tackle capable of playing at a high level from day one. If not, poor protection could hold back an offense that is finally equipped with the weapons to be an explosive unit.
John Abraham, Defensive End
There was a bizarre dispute a couple weeks ago on whether or not Abraham visited the Dolphins on a free agent visit. But it was clear that any interest Ireland had in Abraham was lukewarm at best. Abraham was stellar with the Falcons last season, recording 10.0 sacks and forcing 6 fumbles. But he'll be 35 in May and the Dolphins appear to be undergoing a youth movement, having replaced aging linebackers Karlos Dansby and Kevin Burnett with Dannell Ellerbe and Phillip Wheeler earlier this month.
I wouldn't expect the Dolphins to make Abraham an offer when they can use one of their five picks in the first three rounds to nab a young, explosive rusher. However, if Abraham is still on the market after the draft and the Dolphins end up not using one of their top picks on an end, he could become a nice stop gap solution.

Dwight Freeney, Defensive End
Another option at defensive end for the Dolphins could be former Colts defensive end Dwight Freeney.  There has been no direct link between Freeney and any interest from the Dolphins, but Miami has been speculated to be a potential landing spot.The Denver Broncos appear to be the front runner at this point, but the two sides are reportedly far apart when it comes to a contract. Freeney is said to be seeking $6 million a year, which, if true, means the Dolphins will and should bow out of the running.