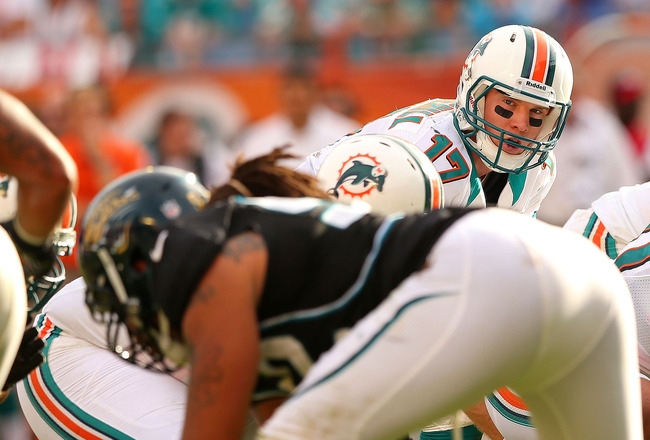 The good thing about the preseason is, nobody will remember how sloppy the Dolphins were last week in Canton if they rebound with a strong performance against the Jaguars tonight.
The optimism Miami entered training camp with, derived from an offseason spending spree and hope that quarterback Ryan Tannehill was on the verge of a breakout season, has been replaced with doubt among the fan base.
Injuries, poor protection and mistakes from Tannehill have made it clear that the offseason honeymoon is over and football season–with all of the realities it has to offer–is here once again.
But has it all been one big overreaction?
We may begin to find out tonight if Miami's rough start is nothing more than growing pains on a team with its fair share of new faces or a sign of things to come. Here are five keys to a successful game against the Jaguars:
1. Good health
The Dolphins are slowly but surely returning to full strength after they were hit with one injury after another during the first two weeks of camp.
John Jerry, Rishard Matthews and Randy Starks are a few players who won't play. But we should see quarterback Ryan Tannehill take the field with something to work with tonight, as both Brian Hartline and Mike Wallace returned to practice this week.
There's no doubt Hartline will suit up, but we'll have to wait to see how much Wallace plays with only one full practice under his belt.
Regardless, the first objective tonight–as it will be every preseason game–is to avoid injury.
2. Tannehill-led scoring drive
Quarterback Ryan Tannehill should play a little more than the 10 snaps he took in Canton. After an unimpressive showing against the Cowboys and a three-pick performance during Tuesday's practice, Tannehill's confidence could use a productive drive in Jacksonville. If both Hartline and Wallace play, there will be no excuses.
It might not be fair given he still won't play for very long, but the fans will demand to see Tannehill march the Dolphins' first-team offense down the field. A field goal would be nice, but a touchdown drive would really smooth things over.
To make it happen, left tackle Jonathan Martin will need to be on his game. The second-year lineman was criticized for giving up a pressure against Dallas, but he did an adequate job in brief action otherwise. A complete effort from Martin tonight should give Tannehill the time he needs to deliver strikes down the field.
When September 8 arrives, it won't really matter what Tannehill did in the first quarter of an August exhibition game in Jacksonville. The fan base will get more sleep this week if Tannehill looks the part of franchise quarterback, though.
3. Clean up turnovers
The two turnovers Miami coughed up against the Cowboys were frustrating given the coaching staff has put so much emphasis on taking care of the football this season. But both were fluky plays, in my opinion.
I don't think fans will have to worry about too many botched handoffs this season and Matt Moore's interception that should have been caught by Chad Bumphis was mostly a timing issue that can easily be corrected.
We'll see if that theory holds true tonight, however. More turnovers against the Jaguars and it might become apparent that these Dolphins are an undisciplined football team.
On the other side of the coin, the Dolphins' defense needs to begin to show they're ready to produce more takeaways this season. Conceding less yardage in 2013 is an admirable goal to have, but truly elite defenses take the ball away.
Winning the turnover margin is one sure way to compete with anybody. If the Dolphins can begin to do that in 2013, they'll have a chance to make some noise.
4. Validation from Hall of Fame Game stars
The Dolphins still have several openings on the back end of the roster. A few players stepped up in a big way at the Hall of Fame Game, attempting to claim a spot on the 53-man roster. But those on the roster bubble need more than one good game to validate themselves as 53 material.
Receiver Chad Bumphis, running back Jonas Gray, defensive end Derrick Shelby and receiver Keenan Davis all got the coaching staff's attention with quality work against the Cowboys. More of the same from each and making the team will become a likelihood.
If not, the flavors of the week will go stale and new faces will more than likely make a push to surpass them on the depth chart.
5. Better tackling
The Dolphins' first, second and third-team defenses missed far too many tackles in Canton. Cowboys' running backs Joseph Randle and Phillip Tanner combined for 98 yards after first contact–a completely unacceptable stat for the Dolphins' defense.
But it was somewhat understandable given it was the first preseason game and the team rarely tackles to the ground at practice. These exhibitions serve as the best way for the team to improve its tackling before the regular season.
I expect the Dolphins' tackling to improve on weekly basis as the defense becomes more accustomed to game speed and physicality. But we still need to see progress–starting with tonight's game against the Jaguars.