The Miami Dolphins didn't need to addresses their linebacker corps this offseason. They could have been content with a group that was solid for at least another season, especially considering the rest of the roster had so many holes.
Instead, the Dolphins shocked both Miami fans and national pundits by signing free-agent prize middle linebacker Dannell Ellerbe to replace Karlos Dansby. But the remodeling effort wasn't complete. Replacing 30-year old veteran Kevin Burnett with free-agent outside linebacker Philip Wheeler was also on the agenda.
The Dolphins have given the refurbished unit a higher ceiling, but they've also parted ways with a sure thing in the Dansby-Burnett duo. The two could have easily been relied on for another 200 plus tackles this season. Not that Ellerbe and Wheeler can't and not that they won't help produce more game-changing plays, but they run the risk of disappointing as one-year wonders.
It's happened before in free agency. It will certainly happen again. A player, in the final year of his contract, has a stellar season and cashes in with a lucrative, multiyear commitment on the open market, only to struggle with his new team and the demands that come with his new deal.
Will Ellerbe and Wheeler fall victim to a similar fate? Or will they be as advertised and provide the Dolphins with sacks, turnovers and a heap of tackles? And how exactly will the rest of the unit shape up in training camp?
Let's evaluate:
SAFE
Dannell Ellerbe: The former Raven was dominant for stretches during Baltimore's Super Bowl run and was expected to be the heir-apparent to the retired Ray Lewis. Instead, Ellerbe chose Miami in free agency where he'll have the opportunity to build his own legacy.
Ellerbe should rack up tackles in bunches against the run, playing behind one of the best defensive lines in football. He's also been an effective blitzer and gives Kevin Coyle's defense the ability to be a more attacking unit this season.
The 4-3 scheme will be new to Ellerbe, though. He's played in a 3-4 defense from Georgia in college to the Ravens as a pro. But it won't be a drastic change.
If Ellerbe can successfully make the transition in training camp and doesn't allow complacency from a $35 million deal to settle in, he'll make the Dolphins a better defense.
Philip Wheeler: Like Ellerbe, Wheeler is a young, attacking defender that should help the Dolphins' defense make more impact plays in 2013.
He's not great in man coverage, but has fared very well dropping back in zone. The Dolphins are expected to play more zone coverages with their linebackers this season and Wheeler is a big reason for that.
I tend to worry a little more about how Wheeler will respond to getting paid, though. He was productive on a bad Raiders team in 2012, but before that, he was deemed replaceable in Indianapolis after four so-so seasons with the Colts.
To me, he's the Dolphins' free-agent acquisition with the highest bust potential. I'm not predicting he will disappoint, but if there's one new addition that does, my money is on Wheeler.
But we look at the roster on paper this time of year. And on paper, Wheeler gives the Dolphins' defense athleticism and versatility.
Koa Misi: The 2010 second-round pick quietly had his best season as a pro in 2012. Misi was the biggest beneficiary of the Dolphins' move to a 4-3 scheme, where defending the run was his primary responsibility.
Misi was never the most-polished pass rusher and that prevented him from being starting material in the 3-4. But in the 4-3, Misi looked at home.
He needs to prove that last season wasn't an aberration, though. Consistency will be key in holding down a starting spot and holding off possible replacements like fourth-round selection Jelani Jenkins.
Jelani Jenkins: As a mid-round pick, draft-status alone should assure Jenkins' spot on the 53-man roster. But he'll need a solid camp and preseason to earn playing time.
He projects to be a standout special-teams player and could work into the rotation on passing downs as one of the 2013 draft's most capable cover linebackers. He'll likely need to get stronger, though, if he ever wants to compete for snaps in the Dolphins' base defense.
POSSIBLE CUTS
Austin Spitler: The Dolphins selected Spitler in the seventh round of the 2010 draft. He's proved to be a decent get as a late-round pick, contributing on special teams and being an adequate fill-in on defense when need be.
It would be a surprise if Spitler is not on the roster for the opener in Cleveland.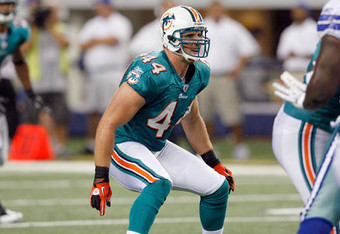 Jason Trusnik: In two years with the Dolphins, Trusnik has proven himself as an outstanding special-teams player. But will that be enough, at 28-years old, to beat out younger players with more potential?
I tend to think it will be, but that could change if one of the names below stands out in camp.
Josh Kaddu: Kaddu, a fifth-round pick last year, is a player many seem to be high on for no particular reason. He's a good athlete but was invisible for the most part last preseason.
The Dolphins may experiment with him as a pass rusher as well, but regardless of his role, he needs to make more of an impact this summer to hang on the 53.
Jonathan Freeny: The Dolphins activated Freeny from the practice squad to the 53-man roster last September after not initially making the team as an undrafted rookie.
He can play standing up at linebacker or with his hand in the dirt as a defensive end. But he'll have to continue to make his mark on special teams to hold on to his roster spot.
LIKELY CUTS
Lee Robinson: Robinson bounced around the practice squads of the Broncos, Cardinals, Buccaneers and Broncos again in his first two seasons in the league before eventually joining the Edmonton Eskimos of the CFL.
The Dolphins have had great success finding talent in Canada under Jeff Ireland. Robinson will look to be next in line to feed that pipeline.
Michael Clay: Undrafted rookie Michael Clay joins former Oregon teammates Dion Jordan and Josh Kaddu on Miami's defense. He was a fundamentally-sound, instinctive linebacker for the Ducks and needs to demonstrate more of the same for the Dolphins.
David Hinds: The Florida Atlantic product played his way onto the Dolphins' training camp roster during a tryout at rookie minicamp. He'll need to impress again and do so consistently playing alongside the veterans.
Alonzo Highsmith: His father, former Miami Hurricanes' star running back Alonzo Highsmith Sr., gives the rookie some name recognition in South Florida. But that won't be enough to help this long-shot position himself for a spot on the team.
PREDICTIONS
Depth Chart
Middle Linebacker
-Dannell Ellerbe
Weakside Linebacker
-Philip Wheeler
Strongside Linebacker
-Koa Misi
Backups
1. Austin Spitler
2. Jelani Jenkins
3. Jason Trusnik
4. Josh Kaddu
Cuts
Jonathan Freeny
Lee Robinson
Michael Clay
David Hinds
Alonzo Highsmith
Countdown to Camp: 8 days