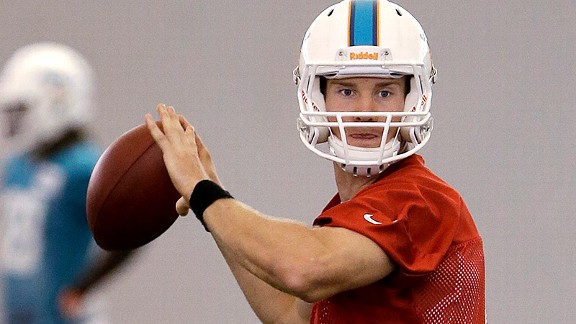 Fall is closer than you think. The calendar may read September 22nd, but for football fans, autumn is right around the corner.
That's especially true for Dolphins fans, who will see their beloved franchise open training camp on July 20th–the earliest veteran reporting date in the entire league.
The countdown to the beginning of the 2013 season is a mere 12 days away. And with 27 days between now and the Dolphins' first preseason game–a Hall of Fame Game matchup with the Dallas Cowboys–it's time to get Dolphin faithful prepped for the kickoff of one of the most anticipated seasons in recent memory.
Over the next couple of weeks, we will be taking an in-depth look at each of Miami's positions, focusing on camp battles and which players are likely to claim a spot on the 53-man roster.
Today, we kick the series off with none other than quarterback–the position that will ultimately decide how much success the Dolphins have this season.
SAFE
Ryan Tannehill: The forgiving stage of second-year quarterback Ryan Tannehill's career is over. It's time to answer the call. It's time to prove that the hype is real and the expectations are legitimate.
Tannehill displayed the ability to do it all as a rookie, to become the quarterback this franchise has been starving for since Dan Marino. He has the arm strength to make every NFL throw, slings a gorgeous deep ball, puts touch and accuracy on short to intermediate passes and can keep lays alive or move the chains with his feet.
What's missing? The ability to do it all consistently. The ability to dissect opposing defenses on a routine basis. The ability to validate himself as a leader who can make clutch passes in tight games, in big games.
Training camp will be a crucial time for both Tannehill and his newly ameliorated weapons. Being a more talented passing attack won't necessarily equate to a more prolific one. At least not immediately.
It may take time for Tannehill and his new targets to become acclimated, to develop chemistry. The Dolphins chose to play a fifth preseason game for that very reason.
The hope is Tannehill and new additions such as Mike Wallace, Dustin Keller and Brandon Gibson will sync in time for the opener in Cleveland. If not, a rough start to the 2013 season may doom the Dolphins' chances of challenging the Patriots for AFC East supremacy.
Matt Moore: Two years and $8 million may seem like a hefty price for a player that may or may not see the field. But the Dolphins secured themselves one of the league's top backups by retaining Matt Moore this offseason.
With how much is at stake for this organization, Miami cannot afford to let a potential Tannehill injury spoil their chances of making noise in the AFC.
Moore is more than capable of leading the Dolphins to wins. He'll never be an elite quarterback. He'll likely never lead a team to a Super Bowl. But he can do enough to keep a team afloat.
The Dolphins' playoff chances would be damaged if something happened to Tannehill, but not doomed. Which is more than the majority of NFL teams can say regarding an injury to their starter.
Moore's responsibility this training camp and preseason is to simply make the most out of his reps with the second team and to remain a vocal leader in the locker room.
POSSIBLE CUTS
Pat Devlin: Comparisons to Tony Romo and continuous praise from head coach Joe Philbin boosted Pat Devlin's stock during last year's season of HBO's Hard Knocks.
It's clear the Dolphins believe they have a developmental asset in Devlin, who has flashed ability in preseason action but has yet to attempt a pass in a regular season game.
He's entering the final year of his rookie contract and would love to show the Dolphins and the rest of the league he's capable of more than third string this summer.
Devlin's roster spot seems fairly safe, but Miami signed Aaron Corp in May to compete. It also wouldn't be unprecedented for the Dolphins to keep only two quarterbacks when cuts are made. But odds are, Devlin sticks around if he can continue to impress the coaches.
LIKELY CUTS
Aaron Corp: In high school, quarterback Aaron Corp was considered a highly touted recruit, ranking 44th nationally according to Rivals.com in 2007. He signed with USC where he was considered the heir apparent to Mark Sanchez, but wound up transferring to Richmond after suffering a fractured fibula.
Corp performed well at Richmond, but not well enough to be selected in the 2012 NFL draft. He signed as a undrafted free agent with the Bills, but was released well before the season.
Now, entering his first NFL training camp, Corp hopes to tap some of the potential many believed he had as a prep star and at USC. But it certainly won't be easy.
As the fourth quarterback on the depth chart, Corp won't get many reps during practice or the exhibition season. Every snap, every pass will be pivotal for Corp if he wants to do enough to impress the Dolphins or another franchise.
PREDICTIONS
Depth Chart
1. Ryan Tannehill
2. Matt Moore
3. Pat Devlin
Cuts
Aaron Corp
Countdown to camp: 12 days